Smartrace Adult Sheep Boluses Hit New Zealand Market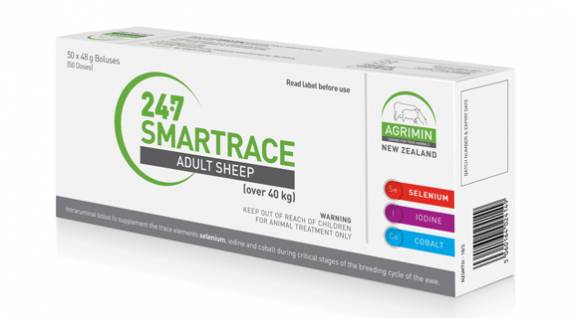 5 Sep 2019
Sheep Boluses Provide Trace Element Security
Preventing trace element deficiency is a key step in increasing productivity in adult sheep. The newly launched Agrimin 24.7 Smartrace eroding boluses for adult sheep offer a convenient and effective way to ensure sheep are adequately supplemented with key trace elements whatever the system of stage of production.

Containing selenium, cobalt and iodine in carefully formulated amounts, the unique eroding technology means the minerals are released at a rate to ensure a guaranteed daily intake. Supplementation is achieved via a single application and the high density bolus settles in the rumen ensuring 100% retention.

Vetpak, NZ distributors for Agrimin's range of boluses says that some New Zealand soils types are known to be low in essential minerals, so an easily administered and effective source of supplementation will help improve performance from all classes of adult sheep.

Bolusing offers a flexible way to provide adequate trace elements and can be dovetailed with other handling events to reduce time and labour. For ewes, bolusing 2-4 weeks before tupping will provide an adequate supply through the majority of gestation and help ensure good lamb growth.

Supplementation with iodine is particularly important when ewes are grazing on winter brassicas. These crops are Goitrogenic feeds which may inhibit the uptake of Iodine. In these cases, bolusing before the start of winter will mean supplementation will be effective right through the winter grazing period and continue until after lambing.

This will help support vital foetal growth in the last trimester of gestation and also help improve lamb viability and survival rates.

Bolusing can also fit extremely well with the management of merino ewes grazing on high country land where the climate tends to result in pasture with high proportions of native grasses which generally have lower mineral contents making supplementation more important. Supplementing merino ewes with trace elements at key times like mating and scanning has been shown to have a positive impact on key performance parameters.

Bolusing can also help improve the performance in hoggets. "As the aim is to grow hoggets out as efficiently as possible, it is important to the remove the factors that can reduce growth. Potential trace element deficiencies can be rectified quickly and conveniently by bolusing animals. The same principle can be applied to Merino wethers which often have to survive on poorer quality pastures.

The 24.7 Smartrace boluses for adult sheep, with an active pay out period of four months to deliver three essential minerals for around 14 cents per week over the life of the bolus, providing an economic option for the supplementation of Iodine, Selenium and Cobalt.